The Ultimate in Flood Barrier Technology
Rapid assembly & Easy to store
Fluvial Innovations' flood protection products far out-perform traditional flood barriers such as sandbags. Floodstop and Floodblock barriers provide a robust and neat solution to the devastation caused by flooding for home owners, businesses as well as local authorities.
A proven, robust flood protection system.
Flood Defence Solutions
Unlike any other flood protection method our patented flood barrier systems Floodstop and FloodBlock offer a truly pragmatic solution to flooding.
Floodstop and FloodBlock modular flood barriers are more cost-effective and infinitely more reliable than ineffective sandbags. Sandbags leak excessively – we do not recommend their use for flood protection.
Wheather you are a private householder or business, or if you represent a local authority please contact us on 0800 66 66 47 or email info@supplyforce.co.nz for a free flood assessment (available in Auckland and Christchurch only).
Our Flood Barrier products are available to buy or hire nationwide.
Get a FREE Flood Assessment
(Available nationwide. Conditions apply)
Why You'll Love Floodstop & Floodblock Products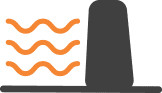 Highly Effective
Used around the world to protect homes and businesses from floods.

Quick to Deploy
All of our products are designed to be quick to deploy for just one or two people.

Easy to Store
All of our products are very robust and stackable, making them easy to store.
How It Works
The barrier can be assembled to any length and be arranged to suit any direction and opening. The system can be rapidly deployed by two persons with ease. It is often used by construction companies or utilities to protect assets from flood risk. The flood barrier is assembled by connecting up the 1-metre long modular units using the universal key.
When in use the majority of the modular units actually fill with the rising flood waters, which combined with the weighted universal keys ensures the assembled flood barrier holds back flood waters. All units and keys incorporate hard-wearing gaskets to ensure sealing. For acute cornering or wall connection in a Floodstop assembly a Multi-hub unit is simply used.In the above set up a free board is required.
Used by British Telecom
Over the last few years, there has been a rise in the number of natural disasters, such as the severe floods that hit Cumbria, in the north of England, in 2015 and Northern Ireland in 2017. These incidents can be devastating to local communities, damaging homes but also threatening communications – not just for residents to make calls and use the internet, but for the emergency services. The hugely important job of restoring those communications falls to BT's Emergency Response Team (ERT).
Day or night, 365 days a year if an exchange is threatened, members of the team are deployed to protect it. They work proactively – for instance, setting up Floodstop barriers outside exchanges to protect from flooding – as well as reactively, using high-tech pumps to quickly remove water after events like flash floods.
Check out the video above to view BT and Floodstop in action!
Rapid wall connection; no bolting required.
Flood Protection Products
Simply the best in flood prevention system for all users

Home Owners

Businesses & Utilities

Councils & Communities
Our flood barriers have been designed to:
Be effective against tidal, rival and surface water flooding
Be affordable and inline with current sandbagging costs
Provide rapid flood defences that can be deployed by one or two persons
Be effective and easy to use by households, businesses and the public sector
Be deployed without the need for bolting or construction works
Floodstop and FloodBlock™ defence barriers are perfect for 'blocking off' and protecting driveways or garage doors
Have a small footprint when deployed
Robust not susceptible to vandals/punctures
Be wind resistant
Floodstop was developed by Fluvial Innovations, and is part-owned by Bournemouth University. Their initial flood protection technology was invented during academia by the company's Managing Director and founder.
Fluvial Innovations has been working and supplying technology in the flood defence industry for over 10-years, and have supplied many miles of flood barrier to hundreds of customers around the world. A world-wide company, Fluvial Innovations have manufacturing and distributor networks set up in Europe, Asia and the America's, New Zealand and Australia.