In stock and ready to ship in 24 hours
Available through our hire partners NZ wide
Extremely durable, you can use them again and again
Complies with CNVMP plans
Extremely versatile
No one wants to be the noisy neighbour, and with the No Noise Series you won't have to be. There are three options available – the Titan, Goliath and Monster.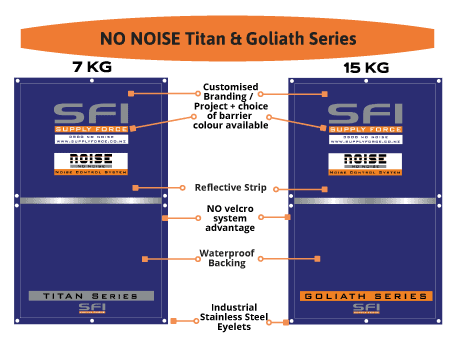 The Titan is the lightest at 7 kg, and it can be installed by one person. Titan reduces noise by up to 27 decibels.
The Goliath weighs over 15 kilograms, but it will attenuate the noise your site generates and keep you in compliance with CNVMP. The Goliath is the most popular model in the series, as it is lightweight and reduces sound up to 40 dB.
The Monster is the heaviest at 24kg but offers up to 43 dB of sound absorption.
Both the Monster and Goliath acoustic barriers are designed to comply with specifications as laid out in Construction Noise and Vibration Management Plans (CNVMP). These reports prepared by Acoustic Engineers, detail the steps to take to mitigate the noise generated by construction activities.
Installation is simple with eyelets all around. With many eyelets, you have more options. Hang them vertically, horizontally, on to scaffolding or site fencing. Most importantly, there is no Velcro.
If you have ever had to install barriers this heavy, you most certainly do not want to also contend with Velcro. On a fence line, Velcro is a significant hazard, and it is dangerous in windy conditions.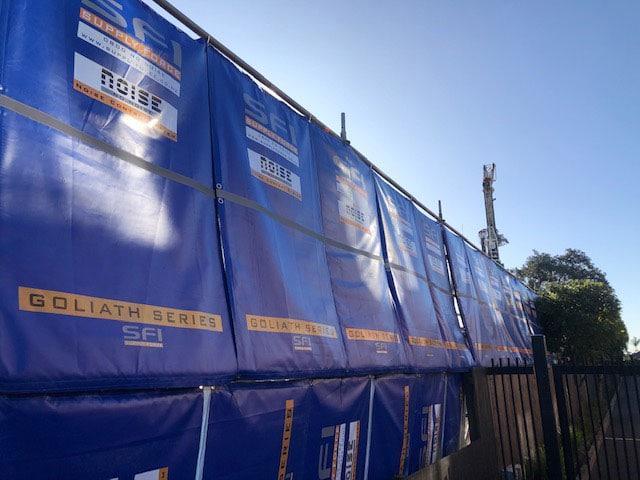 These barriers are made to last, so are a good investment for use time and time again.
These barriers are waterproof so they do not load up with water and place undue stress on your fence line.
We can customise the full range of No Noise acoustic barriers in various colours and with your company logo or safety messages.
Available for Hire Nationwide
No Noise barriers are available for hire nationwide through our network of hire partners
Supply Force has established a reliable hire partner network right across New Zealand.
These partners are companies New Zealanders know and trust. They can assist with everything from dry hires to installations.
Effectively Control
Noise Pollution

Better Health & Safety
Compliance
Allow For The Use
Of Bigger Tooling

Reduce Negative Consumer
Impact For Retailers
Where You Can Use NOISE no Noise Control System
These barriers are made to last and keep your project running whilst keeping your employees safe and neighbours happy
Supply Force focuses on delivering innovative solutions to real-life problems