Contain noise at its source for a safer working environment
Lightweight
Quick and easy to install or move
Up to 40dB noise reduction
Fire Resistant
Construction and manufacturing industries are perfect for Echo Barrier Noise Enclosures. They offer temporary noise control for a wide range of generators, compressors and workstations.
Echo barrier enclosures are lightweight, waterproof, easily assembled in minutes, and portable.
Their workstation design provides a safe environment for cutting stations or other noise sources to be situated close to work areas.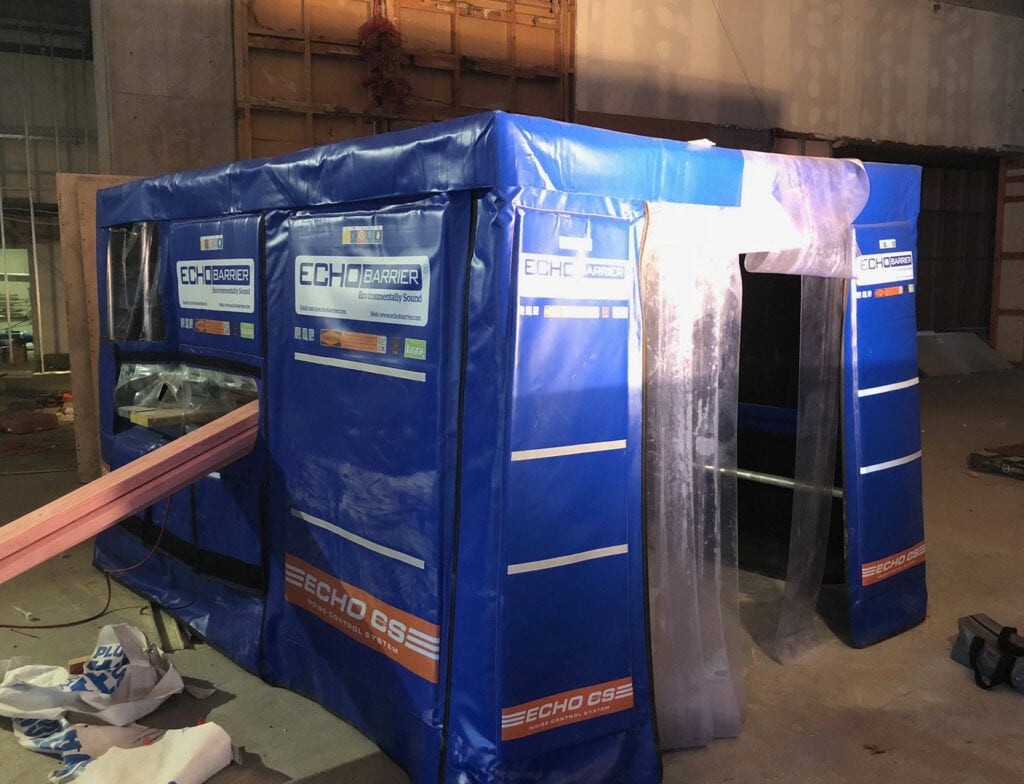 Customizable to Best Represent Your Brand
Stylish and customizable to best represent your brand. Our temporary acoustic fencing can be branded with the design and messages of your choice, communicating your ethos and brand to the public.
Echo Barrier is available for hire through one of our national Supply Partners. 
Echo Barrier Noise Barriers are suitable for manufacturing environments and can be used for noise pollution protection for machinery as well as generators
Echo Barrier has soundproof barriers for use as sound-absorbing tents for gensets and other noisy construction and manufacturing machinery.
Echo Barrier Noise Enclosure Features


Fire Resistant
to BS7837:1996
100% Waterproof
UV Resistant

Innovative, Scientific
Product Design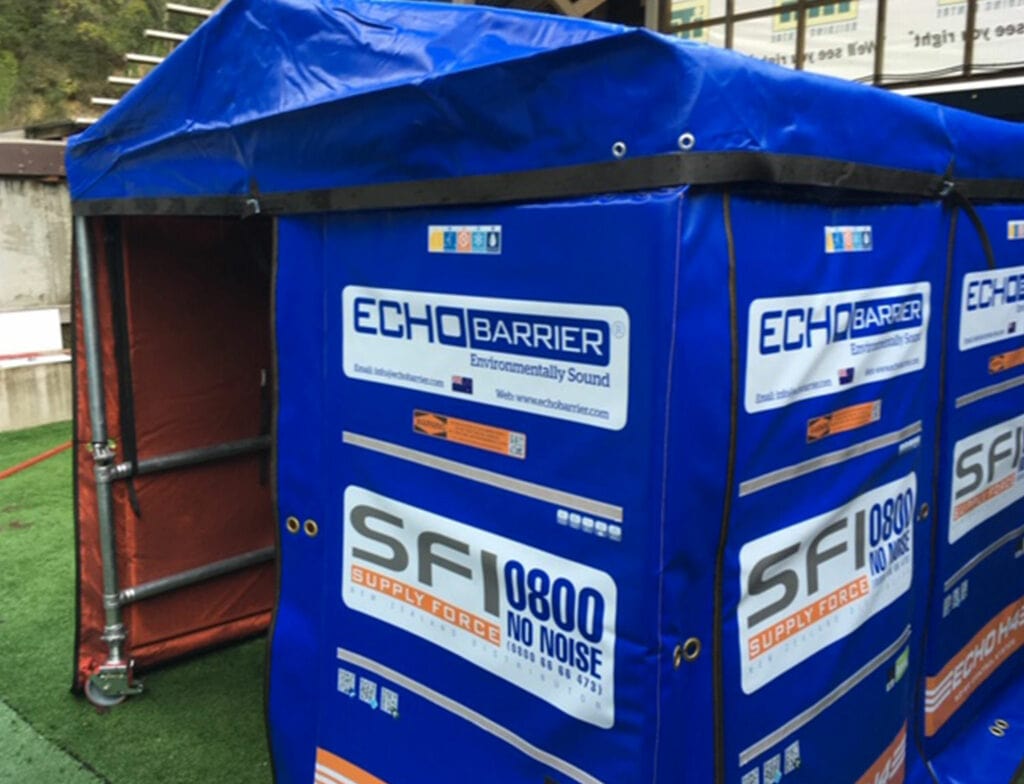 Echo Barrier H20 Enclosure
An instant solution to excessive noise
Installed in just 15 minutes, our H20 acoustic enclosure is a simple, flexible and effective temporary noise solution.
The 2.3m x 2.2m enclosure is ideal for work inside buildings and next to high-rise structures.
It reduces noise by up to 20dB on-site; prevents sound from bouncing off ceilings and walls; and contains the spread of dust.
Echo Barrier Cutting Station
World beating noise reduction and site safety
The CS cutting station provides a perfect temporary cutting station that allows operations to take place safely, directly at the worksite.
The station provides up to 40dB noise reduction, and contains debris from cutting while allowing visibility and safe handling of oversize items.
Available for Hire Nationwide
Our barrier products are available for hire nationwide through our network of hire partners.
SFI has established a robust hire partner network right across both of New Zealand's main islands.
These partners are companies New Zealanders know and trust. They can assist with everything from dry hires to installations.
Effectively Control
Noise Pollution

Better Health & Safety
Compliance
Allow For The Use
Of Bigger Tooling

Reduce Negative Consumer
Impact For Retailers
Where You Can Use Echo Barrier Acoustic Enclosure
Echo Barrier Noise Enclosure for the Construction & Manufacturing Industries, contain noise at it's source for a safer working environment
Supply Force focuses on delivering innovative solutions to real-life problems