A client of ours is building a 5-level apartment block in Papatoetoe. Due to the ground conditions, a specialised drill rig with ground stabilisation functions was brought in for the job. This is the first time this rig has been used in the North Island. This rig along with its separate generator creates significant noise.
The site is surrounded by residential buildings, but more problematically has a double-storey retirement village along the longest boundary fence. As these residents were much higher than surrounding properties a different solution was needed than our standard construction noise barriers on a 2-metre high fence line.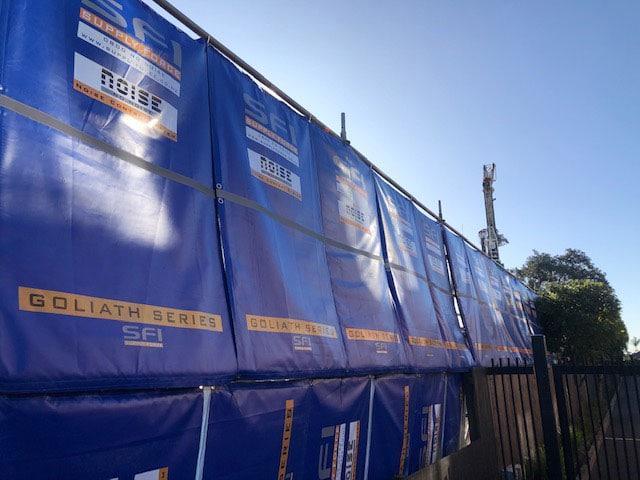 A 4-metre-high scaffolding structure was erected along the entire boundary of the retirement village in order to reduce the noise generated by the drill rig. As such a high level of attenuation was required, we used our 16kg No Noise Goliath. The noise barriers were installed double height to get the full 4 metres.
The eyelets on the barriers have high tensile strength, so although they faced into the prevailing wind, with our secure fixtures they posed no risk of becoming detached from the scaffolding.
The No Noise Goliath sound barriers have proved to be highly effective on-site and have provided the residents of the retirement home with significant relief from what would have been a very disruptive activity.
No Noise Acoustic Barriers
Our No Noise acoustic barriers are designed for New Zealand conditions and meet all requirements from Construction Noise and Vibration Management Plans (CNVMP) as prepared by Acoustic Engineers. Our No Noise Goliath is 6.5kg.m2, and we also offer the No Noise Monster- 10kg/m2 offering the highest level of attenuation available on the market.