Distributed by Supply Force International
We supply temporary acoustic fencing for New Zealand's construction and industrial industries
World-leading Temporary Sound Barriers
 A noise barrier that treats sound at its source, rather than simply enclosing your perimeter
Less noise, fewer complaints, more work
An alternative to traditional plywood hoarding–which reflects sound and vibration and can effectively double the initial noise level. Echo Barrier is a tested and proven noise barrier system for reducing noise by absorption, to the extent of up to 40 dB!
For superior workplace sound protection
Echo Barrier is supplied to the NZ market by Supply Force International. Echo Barrier has the correct solution for all of your noise issues on site. Our barriers offer the best weight to noise reduction available. So, if you need light weight barriers that are easy to move around site or heavier mass solutions to meet consent requirements, we have the solution.
Due to the superior build quality of the Echo Barrier, we are able to offer the lowest hire rates in the market- guaranteed.
View Product Details and Photos Below
Why Echo Barrier?
Used by New Zealand's premier construction firms

Solutions to meet all your requirements- lightweight to heavier mass solutions.

Free on-site consultation to ensure the best noise management solution is in place – this usually results in less noise barriers being required

New Zealand's largest noise barrier hire network

We can match any competitor's price when you hire Echo Barrier

Echo Barrier is the most durable noise fence product on the market

Because it lasts longer, we can pass on the savings to our customers

Purchasing noise fencing?

Echo Barrier is the only noise barrier backed up by independent engineering reports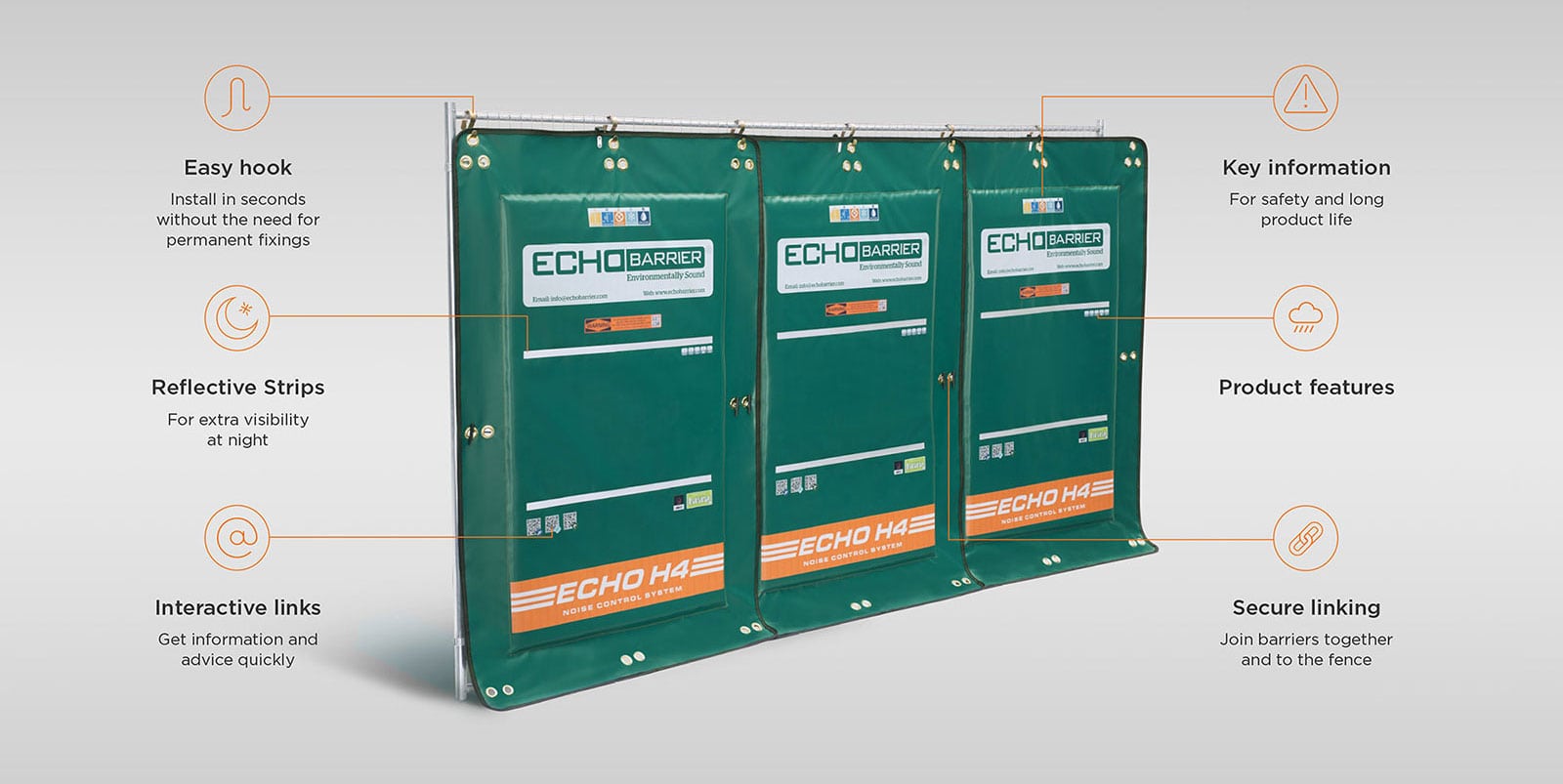 Contact SFI for your FREE Quote
Up to 40dB noise control
Our cutting edge acoustic barriers are used worldwide, tested and proven to give up to 40dB noise control.
1. Waterproof outer layer
Extremely durable and waterproof, highest quality PVC makes our acoustic barrier easy to clean and professional looking.
2. Acoustic Absorbent
Top grade lightweight acoustic absorbent which prevents sound from reflecting off the barrier.
3. Waterproof breathable membrane
Allows sound to be absorbed but keeps water out.
4. Durable reinforced mesh
Extends product life to retain acoustic performance in harsh working environments.
Echo Barrier H Series Noise Control System
Dimensions (flat): 2050mm high x 1335mm wide
Dimensions (rolled): 400mm diameter x 1335mm
Field Performance: 10–40 dB Noise Reduction (greater if barriers are doubled up)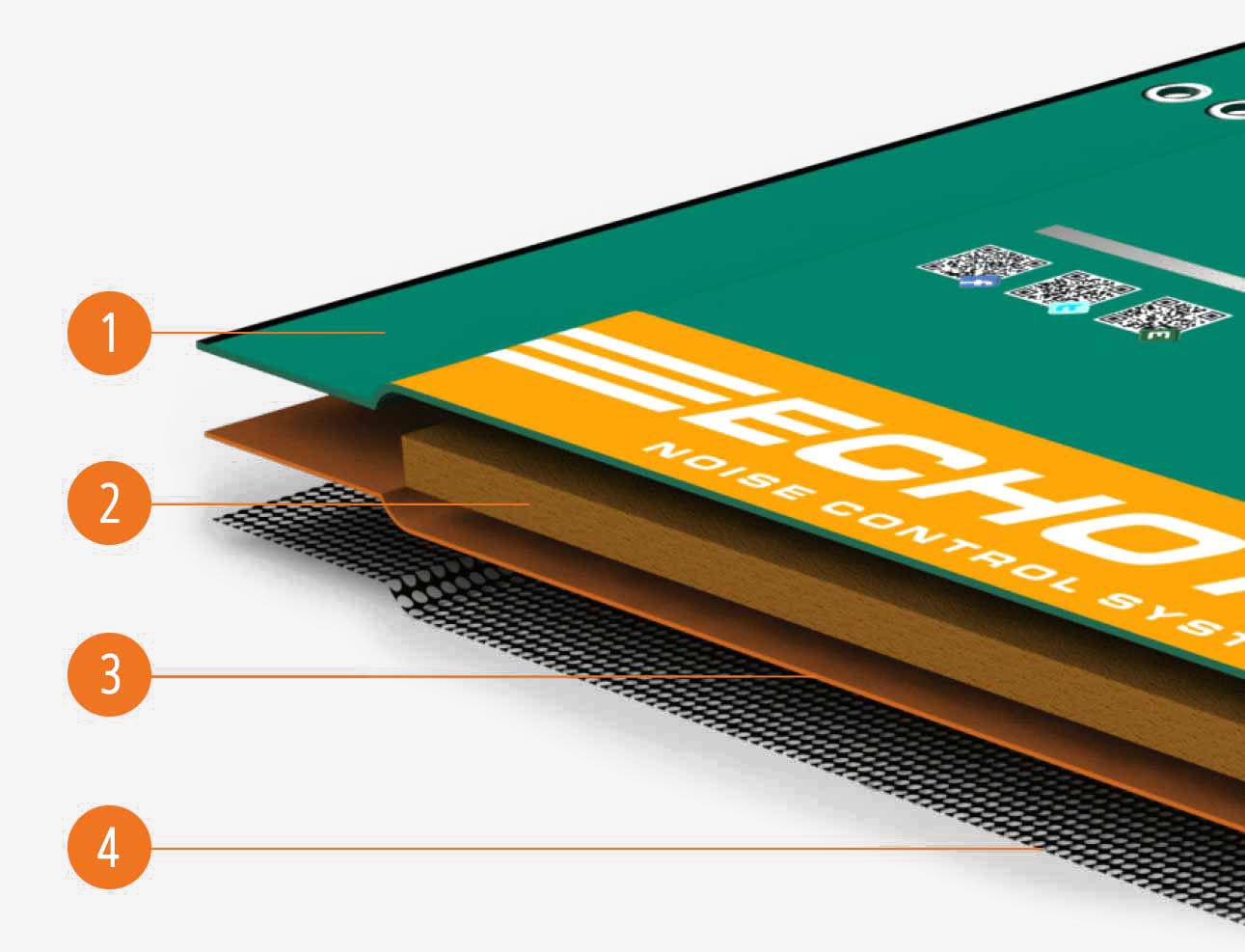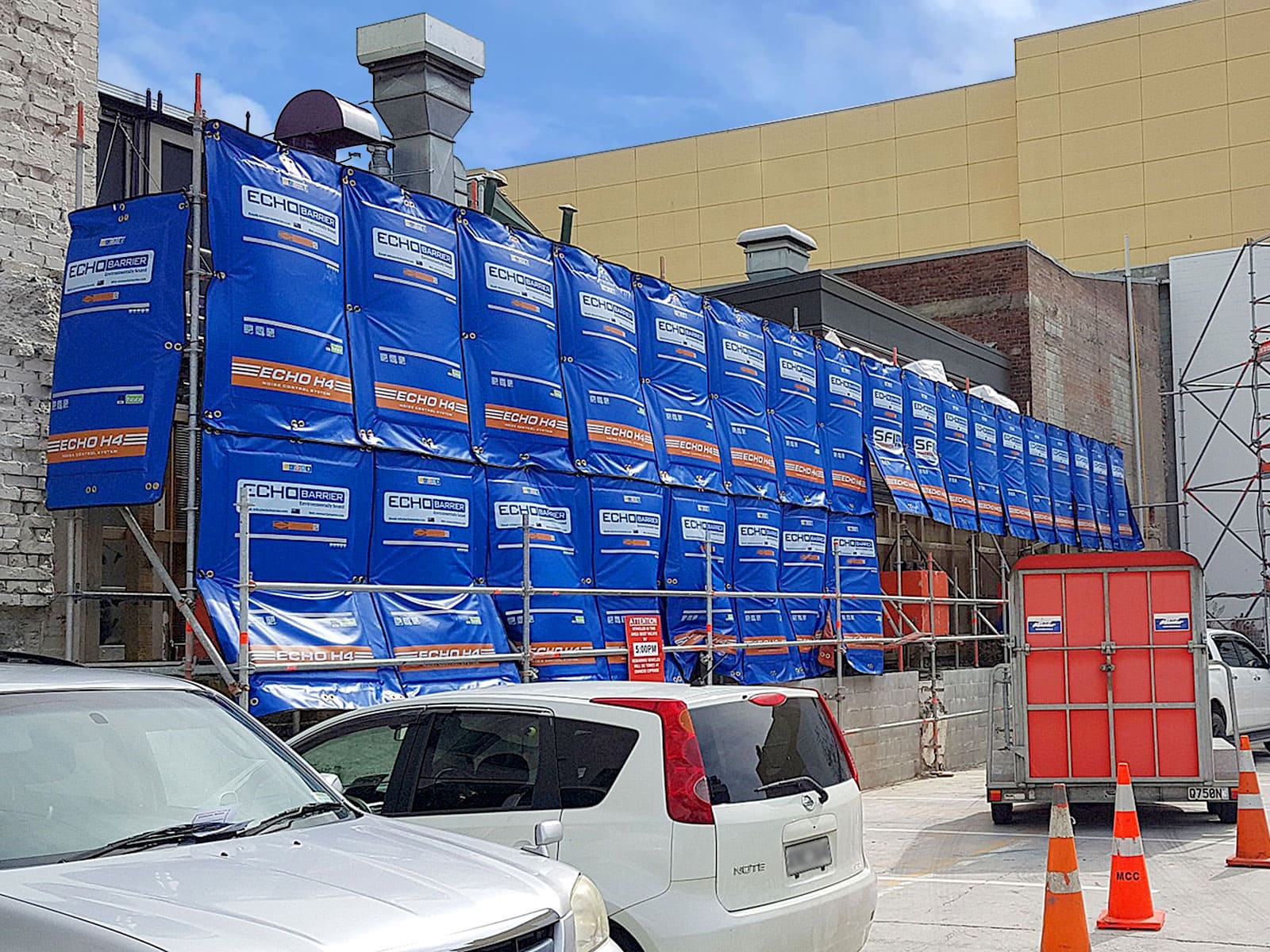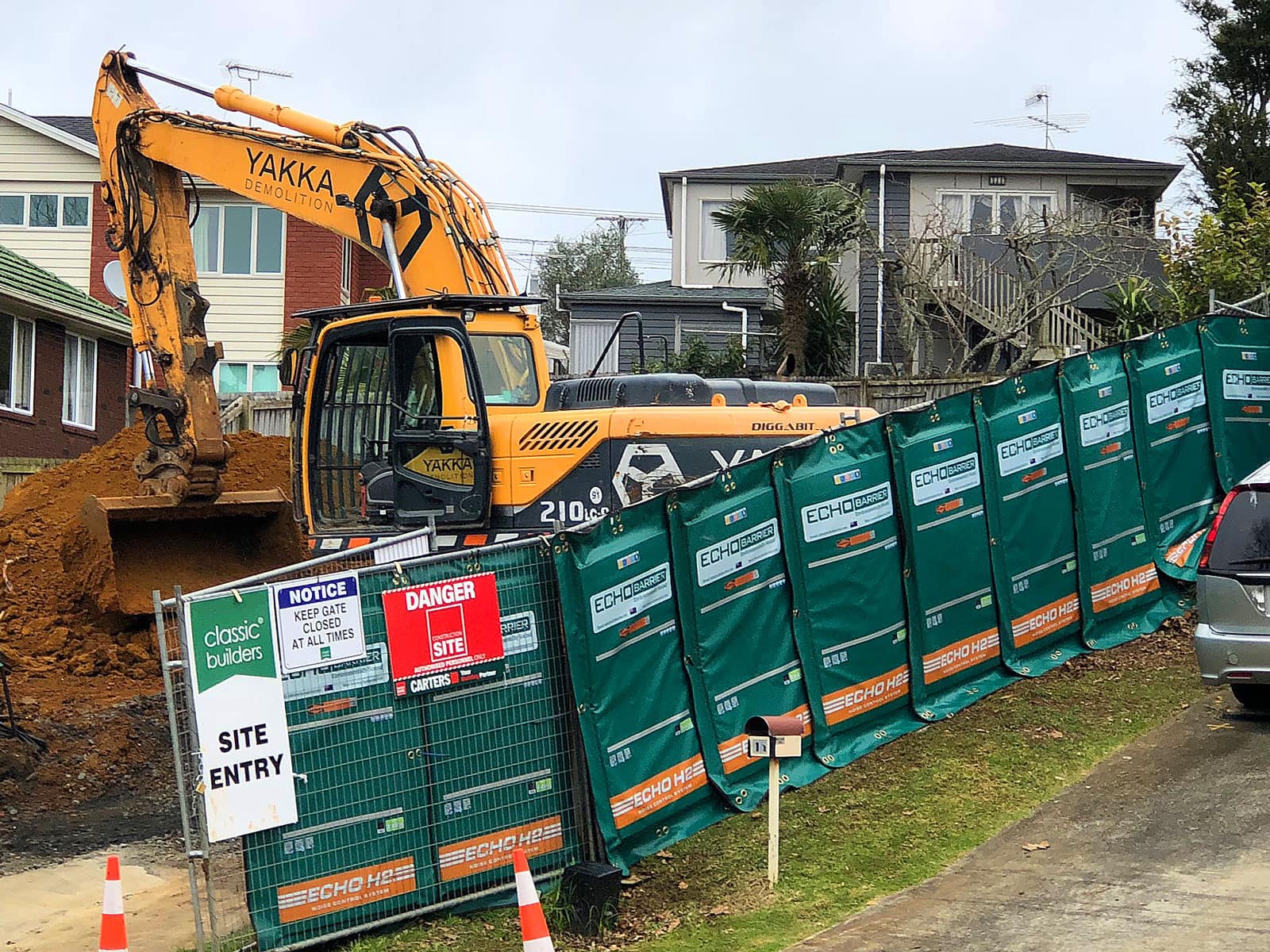 New Zealand's
only

certified noise barriers
Echo Barrier is different to other soundproof fencing products on the market. SFI has independent engineering reports performed by British Standards for Engineering to support this superior noise barrier product. No other noise curtain in New Zealand performs better for construction noise control.
Developed by experts, tested to exacting standards with noise attenuation of up to 40dB. Echo Barrier is a proven market leader, offering the most effective temporary noise control solutions available. Reducing noise with durable, lightweight acoustic barrier products which withstand the toughest weather.

Rapid Installation

Fire Resistant to BS7837:1996
100% waterproof
UV resistant

Innovative, scientific product design

Durable & Long Lasting
Echo Barrier products are suitable for manufacturing environments, and can be used for noise pollution protection for machinery as well as generators
Echo Barrier has sound proof barriers for use as temporary site fencing as well as sound absorbing tents for gensets and other noisy construction and manufacturing machinery.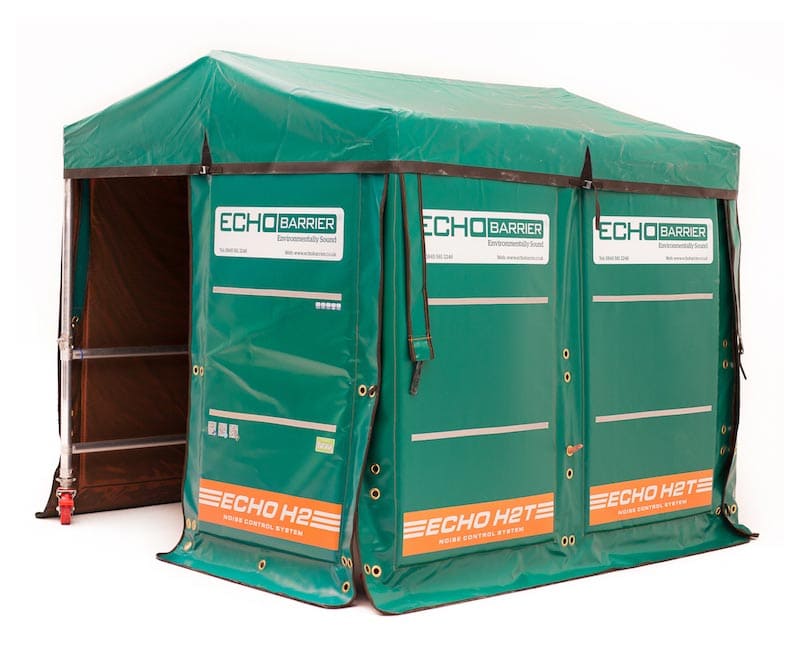 Echo Barrier H20 Enclosure
Echo Barrier Gen Set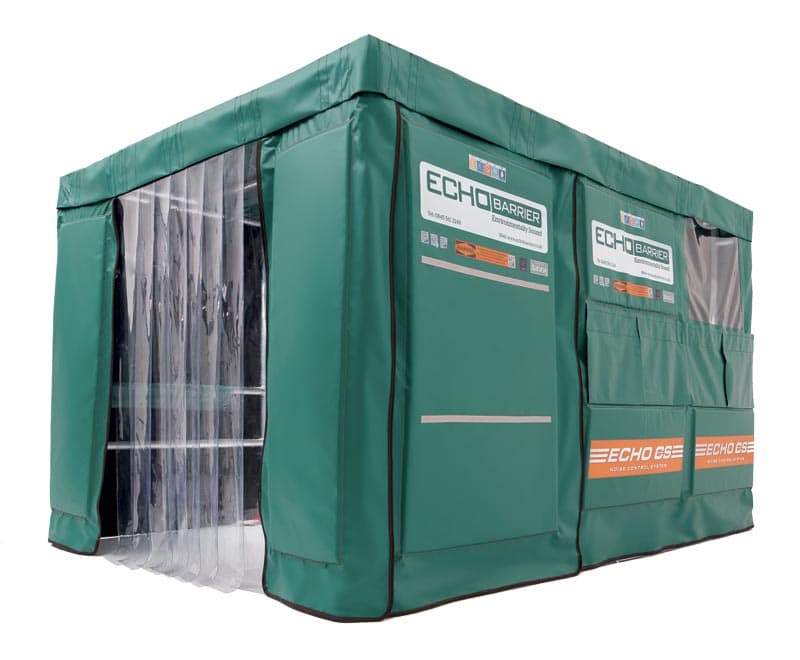 Echo Barrier Cutting Station
Echo Barrier is for those looking to improve culture around workplace safety, and improve Health & Safety compliance
Stylish and customizable to best represent your brand. Our temporary acoustic fencing can be branded with the design and messages of your choice, communicating your ethos and brand to the public.
Today, all contractors have a responsibility to protect both the public and the employee from hazards
All contractors in the construction industry face challenges of noise and dust management. Some contractors have a better culture than others when it comes to managing such challenges. It really depends on the health and safety culture of the contractor and how health and safety policies are implemented in daily site life.
Workers on site will often be wearing hearing protection to perform their task. If the only thing separating the public from the work site is a site fence, then it is possible that public will also need to protect their ears as they walk past. Safety professionals refer to this as a walk by hazard.
Identifying hazards and managing risk
While the safety act encourages employers to identify hazards and manage risk, the onus is on the designer to plan ahead for hazards at each stage of of a construction project. Echo Barrier is simply the best product on the market for protection against noise hazards and construction site dust.
Call SFI today for further information.
Echo Barrier is hand-made in Europe
Echo Barrier was founded by Peter Wilson, an acoustics expert with over 30 years direct experience in acoustic engineering. An industry pioneer, Echo Barrier is dedicated to innovative thinking underpinned by R&D, and attention to detail in all aspects of material selection, engineering and design. By combining acoustic absorption and insulation technology, using high-tech, lightweight, exceptionally durable materials—Echo Barrier products are the epitome of acoustic engineering.
Echo Barrier leads the world in combating noise pollution with its modular system of portable acoustic panels.
Decibels, noise attenuation and the human ear
Noise levels are measured in decibels (dB). Since the decibel is a logarithmic (non-linear) unit of measurement, noise attenuation of 'just' 3dB is equivalent to a substantial reduction in noise energy, i.e. 50% yet that reduction is only just perceptible to the human ear. If noise attenuation increases to 10dB, it equates to a reduction in noise energy of 90%; the human ear senses that as noise reduction of 50%.
The chart below places this in the context of the performance of Echo Barrier's H Series of acoustic panels. Taking this further, the chart makes clear why, in the field (on site), it becomes difficult to attenuate noise by more than 20dB.
Especially important is that noise reduction of 20dB equates to energy reduction of 99%, yet the remaining 1% of energy represents 25% of the noise level perceived by the human ear.
Decibel Reduction (dB)
Energy Reduction (%)
Noise reduction as perceived by the human ear
10
90
Sounds 50% as loud
(Reduction of 50%)
20
99
Sounds 25% as loud
(Reduction of 75%)
30
99.9
Sounds 12.5% as loud
(Reduction of 87.5%)
40
99.99
Sounds 6.5% as loud
(Reduction of 93.75%)
Key factors in successful noise attenuation
There are FOUR key factors that determine the noise attenuation achieved by a barrier of any kind
1. Geometry
The position of the barrier in relation to the noise source.
2. Noise absorbtion
The degree to which the barrier absorbs sound, rather than simply reflecting it. When noise is
reflected, it can reverberate, aggravating noise pollution.
3. Barrier mass
Greater mass offers greater noise attenuation (i.e. results in greater transmission loss), but for the
sake of practicality, a barrier also needs to remain manageable in terms of its size and weight,
especially if it is to be portable.
4. Barrier aesthetics
If barriers are manufactured to a high standard and present a professional image, the perceptions of their performance can be considerably enhanced.
Our Promise: Once you try Echo Barrier, you will never go without it again
Effectively Control Noise Pollution
Better Health & Safety Compliance
Allow for the use of bigger tooling
Reduce Negative Consumer Impact for Retailers