Noise Enclosures
Echo Barrier Acoustic Enclosure for the Construction & Manufacturing Industries
Contain Noise At It's Source
For a safer working environment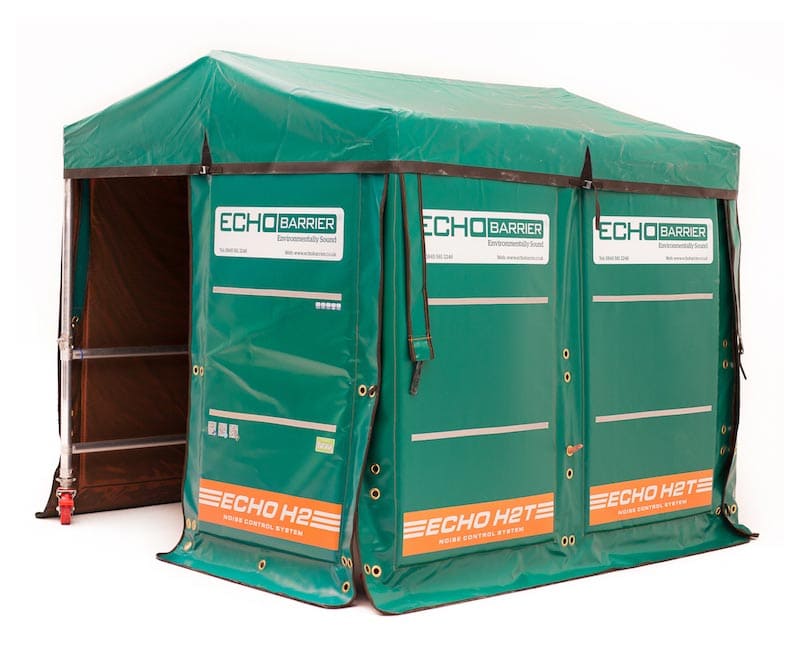 Echo Barrier H20 Enclosure
An instant solution to excessive noise
Installed in just 15 minutes, our H20 acoustic enclosure is a simple, flexible and effective temporary noise solution. The 2.3m x 2.2m enclosure is ideal for works inside buildings and next to high-rise structures. It reduces noise by up to 20dB on-site; prevents sound from bouncing off ceilings and walls; and contains the spread of dust.
Echo Barrier Genset
The most effective temporary noise control for generator sets
Our Genset acoustic enclosure gives you an easy, cost-effective way to cut noise pollution from your on-site power system—for neighbours at ground level and in overlooking buildings. Erected on standard 2m-high fencing around your generator, our enclosure reduces noise levels by up to 99%.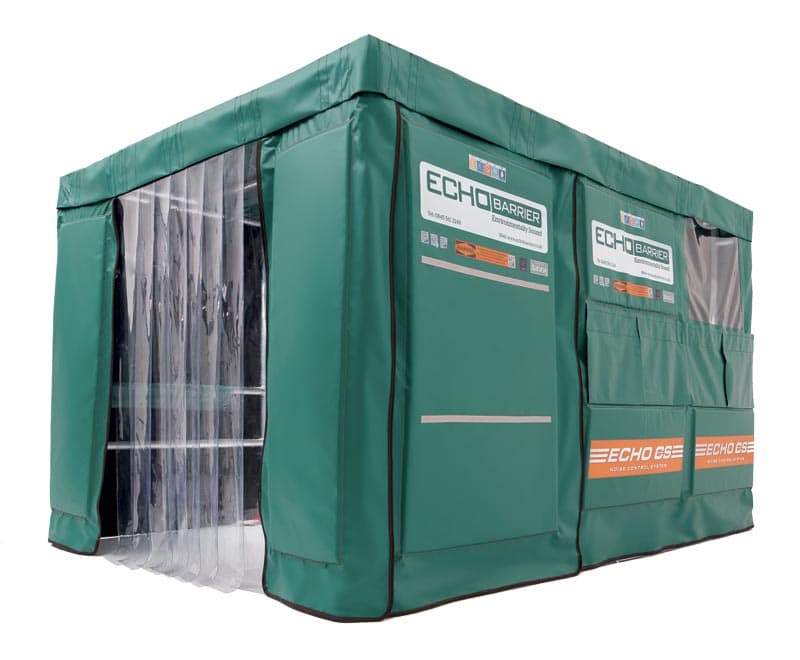 Echo Barrier Cutting Station
World beating noise reduction and site safety
The CS cutting station provides a perfect temporary cutting station that allows operations to take place safely, directly at the worksite. The station provides up to 40dB noise reduction, contains debris from cutting while allowing visibility and safe handling of oversize items.
Echo Barrier is for those looking to improve culture around workplace safety, and improve Health & Safety compliance
Stylish and customizable to best represent your brand. Our temporary acoustic fencing can be branded with the design and messages of your choice, communicating your ethos and brand to the public.
Today, all contractors have a responsibility to protect both the public and the employee from hazards
All contractors in the construction industry face challenges with noise and dust management. Some contractors have a better culture than others when it comes to managing such challenges. It really depends on the health and safety culture of the contractor and how health and safety policies are conducted in daily site life.
Workers on site will often be wearing hearing protection to perform their task. If the only thing separating the public from the work site is a site fence, then it is possible that public will also need to protect their ears as they walk past. Safety professionals refer to this as a walk by hazard.
Identifying hazards and managing risk
While the safety act encourages employers to identify hazards and manage risk, the onus is on the designer to plan ahead for hazards at each stage of of a construction project. Echo Barrier is simply the best product on the market for protection against noise hazards and construction site dust.
Echo Barrier is offered at competitive rates and is backed up by a worry-free Buy Back scheme. Call SFI today for further information.